Monkey Happy Stage 621
Approved for all ages
Monkey Happy Stage 621 - experience brain teasing fun on the space station!
Monkey Happy Stage 621 is a cool brain game where you can solve puzzles in space with the monkey.
Make the monkey laugh and play your way through a space station on a distant planet this time. Speaking of planets, watch out for these celestial bodies as well if you want to solve the new monkey puzzle. Collect all the necessary items, pay your monkey informant with credits and enter the correct codes to open boxes and the ominous door. 
With a good combination skill and a little help from the friendly monkeys, you can also manage to operate the Invisio machine in the second room of the space station. Use the yellow arrows to jump between the different rooms.
Now let's go into space! Help the astronaut monkeys and play Monkey Happy Stage 621 free online on KibaGames!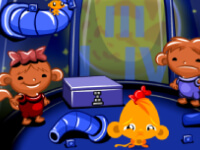 Monkey Happy Stage 621
Originalname:
Game Hits:
0
Online since:
14.
04. 2022
Developer: