Monkey Happy Stage 619
Approved for all ages
Monkey Happy Stage 619 - find Zorro's mask and sword!
Monkey Happy Stage 619 is a cool minigame in which you'll be able to find the characteristic mask and sword of the monkey Zorro.
Click or tap to examine the scene in front of a castle and go in search of the required items. According to the novel, Zorro, the avenger of the poor, lived in 19th century California, when it was still under Spanish colonial rule. That's why in this monkey puzzle you'll also find a cactus, for example, as they thrive in the warm American state. Investigate the castle, open the castle gate by finding a matching code and collect the coins and the key. By triggering the right chain reactions, you can crack the puzzle and make your monkey laugh and dance.
Play now with a new hero of the Wild West and play Monkey Puzzle Level 619 free online on KibaGames!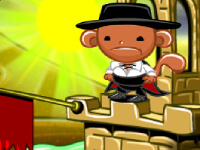 Monkey Happy Stage 619
Originalname:
Game Hits:
0
Online since:
07.
04. 2022
Developer: