Monkey Happy Stage 617
Approved for all ages
Monkey Happy Stage 617 - master the time change!
Monkey Happy Stage 617 is a new mini-game in which you can help the monkeys with the changeover to daylight saving time.
Make the monkey grandpa dance and crack all the puzzles in the rustic hut where there is a late sleeper. The good sleeper probably didn't realize that Sunday was the time change and he has to get up an hour earlier. Combine all the clues to wake him up and let the light fall through the curtains. For 20 candies, the monkey child will help you do it.
Can you wake up the sleepyhead? Now be strategic again, trigger the right chain reactions and play Monkey Happy Stage 617 free online on KibaGames!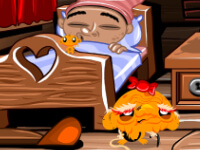 Monkey Happy Stage 617
Originalname:
Game Hits:
0
Online since:
31.
03. 2022
Developer: