Monkey Happy Stage 611
Approved for all ages
Monkey Happy Stage 611 - celebrate St. Patrick's Day together!
Monkey Happy Stage 611 is a cool minigame in which you have to fix Monkey McBean's car for St. Patrick's Day.
Celebrate the day of the Irish national saint together and take part in a big parade. But what is this? Monkey McBean's vehicle, based on the Dr. Seuss character Sylvester McMonkey McBean, is broken and needs to be repaired. Find the missing parts, collect the scattered dollar bills and don't stop at the violin. Now it's a matter of triggering the necessary chain reactions as quickly as possible and also solving all the number puzzles. With the right tools and a little brain jogging, you can succeed.
Let the monkey dance on the green island now and play Monkey Happy Stage 611 free online on KibaGames!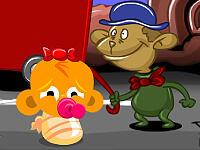 Monkey Happy Stage 611
Originalname:
Game Hits:
0
Online since:
17.
03. 2022
Developer: