Monkey Happy Stage 605
Approved for all ages
Monkey Happy Stage 605 - experience puzzle fun in ancient Pompeii!
Monkey Happy Stage 605 is a historically interesting mini-game in which you'll be able to solve puzzles with the monkeys and watch the eruption of Mount Vesuvius.
The eruption of the volcano Vesuvius in 79 AD in southern Italy buried the Roman city of Pompeii. As a result, many testimonies of that time were preserved under a layer of ash and rock. Help the curious monkeys to observe the eruption and find all the necessary items for this, as well as the 20 Roman gold coins, called aureus in the singular. This will allow the Monkeys to assemble a telescope and observe the development of the historical event. Trigger the correct chain reactions and crack all the letter codes to play through the monkey puzzle.
Don't miss this insight into the ancient catastrophe and play Monkey Happy Stage 605 free online on KibaGames now!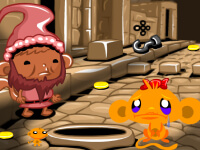 Monkey Happy Stage 605
Originalname:
Game Hits:
1
Online since:
24.
02. 2022
Developer: