Monkey Happy Stage 603
Approved for all ages
Monkey Happy Stage 603 - Frankenstein's Monkey meets Wolfman!
Monkey Happy Stage 603 is an exciting mini-game where Frankenstein's Monkey and Wolverine meet in puzzle fun.
Crack this mini puzzle too with the help of your monkey friends and other fantastic characters and make your monkey laugh. Frankenstein has assembled a new monkey in this world, but it's still missing a screw. Can you bring the missing part to the famous monster from Mary Shelley's horror novel? He'll surely provide you with valuable clues that you'll need to crack the rest of the codes and open mysterious cabinets. And also the famous Wolfman needs your help to find his typical hair and beard costume. With a good combination skill you will soon be able to solve the puzzle!
Find all the clues again, trigger the right chain reactions and play Monkey Happy Stage 603 free online on Kibagames!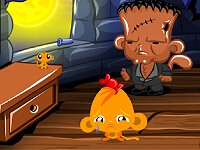 Monkey Happy Stage 603
Originalname:
Game Hits:
45
Online since:
17.
02. 2022
Developer: