Monkey Happy Stage 599
Approved for all ages
Monkey Happy Stage 599 - explore the Monkeyverse!
Monkey Happy Stage 599 is an exciting puzzle game in which you can help Spider-Monkey and other heroes from the Monkeyverse.
Not Spider-Man, but Spider-Monkey first needs your help to start the space-time machine and travel through the mysterious Monkeyverse. Find the USB stick and discover all the clues about the machines. Crack all the codes and get the adventure rolling. The nuclear-powered battery provides the necessary energy to travel through space and time.
Let Granny Monkey meet Spider-Monkey and play Monkey Puzzle Level 599 free online on Kibagames!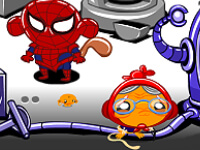 Monkey Happy Stage 599
Originalname:
Game Hits:
88
Online since:
03.
02. 2022
Developer: