Monkey Happy Stage 591
Approved for all ages
Monkey Happy Stage 591 - Batman meets Santa Claus!
Monkey Happy Stage 591 is a cool brain teaser game where Batman and Robin meet Santa Claus and his helpers.
Crack this puzzle too on the day of the Three Wise Men and bring Batman and Robin 20 snowballs in return. In return, they will hopefully provide you with more clues. Of course, the reindeer in front of the Christmas sleigh would like some carrots and the Christmas monkey would like a Christmas card. Also collect all the other helpful objects and use them at the right moment. Can you find the right phone number?
Now use all your brains again and play Monkey Happy Stage 591 free online on Kibagames!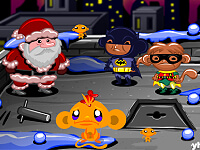 Monkey Happy Stage 591
Originalname:
Game Hits:
182
Online since:
06.
01. 2022
Developer: