Monkey Happy Stage 577
Approved for all ages
Monkey Puzzle Level 577 - find the witch board!
Monkey Happy Stage 577 is a cool mini-game in which you can search and find the monkeys a witch board for their séance.
The four monkeys want to get in touch with the afterlife by means of a witch board, also called Ouija. But unfortunately they lack all the tools for their séance. Search and find the alphabet board and other items, such as a candle and a bag of peanuts, so that the contact with the spirits can succeed. Maybe a monkey will help you in exchange for 20 bags of chocolate? Also crack the letter codes on the wall, open the closet and make sure your Monkey is happy again.
Will this séance be able to take place? Combine all the clues and play Monkey Happy Stage 577 free online on Kibagames!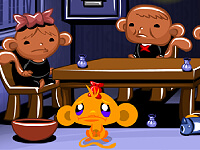 Monkey Happy Stage 577
Originalname:
Game Hits:
261
Online since:
11.
11. 2021
Developer: