Minimal Dungeon RPG
Approved for all ages
Minimal Dungeon RPG - experience fantasy adventures in dark dungeons!
Minimal Dungeon RPG is an exciting adventure game in the style of a dungeon crawler, in which you'll be able to explore a mysterious dungeon.
Wake up in these underground corridors as an elf and play through an exciting storyline as you explore all corners of the vault. Click to use or fight the various square game segments and use the doors and gates to continue through the Minimal Dungeon.
In Minimal Dungeon RPG, encounter various enemies that you can defeat with enough HP and complete tasks to collect more winnings. Sometimes you'll need special tools or equipment for this, which you'll have to find first. For example, you can only explore the ancient tombs with a torch - will the guard give you a torch?
Face various bosses and buy everything you need in the magic store. Offerings are available here, as well as gold or quest items. You can find additional materials and treasures on side missions and in Dreamland.
Plunge into a new fantasy adventure full of monsters, treasures and epic quests and play Minimal Dungeon RPG free online on KibaGames!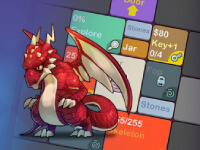 Minimal Dungeon RPG
Originalname:
Game Hits:
0
Online since:
20.
05. 2022
Developer: