Milk For Cat
Approved for all ages
Milk For Cat - furry puzzle fun to train your brain!
The kitten is hungry and wants a treat - how about some cat milk? Help the little creature and open the cartons of milk in Milk For Cat so that the milk runs directly into the cat's mouth. When the milk bar at the top is full, this means your four-legged friend is full and you have won the level.
There are 45 levels with increasing difficulty to solve in this cute brain game. Some cartons you can cut open directly, others you have to cut the rope they are hanging on. Wait for the perfect moment to make them fall down in the right place. You can tap or click on platforms to rotate them. By doing so, find the right angle for the milk to get down to the cat with as little loss as possible. The square milk cartons will burst open when you drop them on the obstacles with sharp edges.
If you make a mistake or spill too much milk, you can repeat a level at any time by clicking the restart button with the curved arrow in the upper right corner.
Can you feed the kitten and make it happy in all 45 levels? Try it out and play milk For Cat free online now on KibaGames!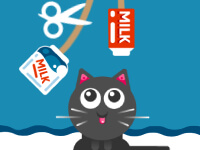 Milk For Cat
Originalname:
Game Hits:
53
Online since:
04.
02. 2022
Developer: