Mike And Mia: 1st Day At School
Approved for all ages
Mike And Mia: 1st Day At School - Accompany two kids to school!
Mike And Mia: 1st Day At School is a cute kids game in which you'll be able to prepare Mike and Mia for class with numerous minigames!
Mike and Mia are already very excited because their first day of school is coming up!!! A new phase of their lives is about to begin and they are sure to make lots of new friends! But for that they still have to make some preparations in fun mini-games.
First, clean up the room of the two children. Gather the school supplies and put the toys in the box. This way you'll have the exercise books, rulers and pencils for the two first graders packed away right away and the room will be tidy again. Next, Mike and Mia are to be bathed. Help the two kids wash up and put on fresh clothes. Of course, food for the break should not be missing. So cut fruit, make sure to use only fresh ingredients and prepare a delicious lunch box. Now you're ready to go. Dress the two of them in nice, colorful clothes that they can wear to school and accompany them to class. Here, the two first graders learn to write numbers, count, and match the correct animal sound to the correct animal. This makes learning really fun!
More free online games for preschoolers
If you liked Mike And Mia: 1st Day At School, why not play Mini Planet?
Now let's go to school! Join two children as they start a new chapter in their lives and play Mike And Mia: 1st Day At School free online on KibaGames!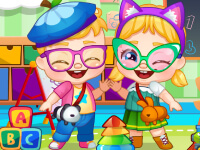 Mike And Mia: 1st Day At School
Originalname:
Game Hits:
0
Online since:
17.
03. 2023
Developer: