Michelin Star Chef
Approved for all ages
Michelin Star Chef - cook at the highest level!
Michelin Star Chef is a new cooking game in which you can prepare a lot of dishes in the restaurant kitchen that deserve a Michelin star.
The highest award for successful professional chefs is the Michelin star, which is regularly awarded for particularly outstanding achievements in the professional kitchen. Here, too, put together a star-level menu and play through all the steps. Start with the appetizer: delicious little grilled skewers. Surprise your guests with a hearty soup and chop the vegetables. The main course consists of juicy meatballs and for dessert you'll serve your famous ice cream sundae. In eight levels with lots of delicious dishes, you'll become one of the elite cooking professionals!
Your mouth is watering! Show what you've got at the stove and oven and play Michelin Star Chef free online on KibaGames now!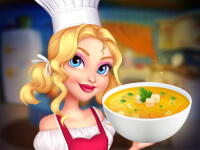 Michelin Star Chef
Originalname:
Game Hits:
0
Online since:
13.
07. 2022
Developer: