Merge Push
Approved for all ages
Merge Push - add up to the biggest sum!
Merge Push is an exciting brain game in which you can merge blocks of numbers and keep adding them up.
Click on the column where you want to place the number on the block below. If it then meets a number of the same kind, the two merge and add up. Start with 2, which then becomes 4, which then becomes 8, 16, 32, 64, 128 and so on. For each good move you get points. Also, make sure you keep merging numbers to keep the board clear for new blocks. In addition, the numbers will slowly sink down, which you can also prevent by merging new ones.
Number fans watch out! Add up the largest sums now and play Merge Push free online on Kibagames!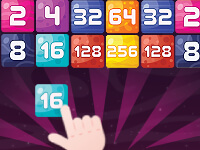 Merge Push
Originalname:
Game Hits:
176
Online since:
07.
01. 2022
Developer: