Mega City Missions
Approved for Ages 6+
Mega City Mission - win on 20 new race tracks!
Mega City Mission is a cool racing game in which you can complete exciting tasks in a big city.
Play with a total of seven fast racing cars and control them with WASD or the arrow keys. If you want, you can race again with a friend on a keyboard in Mega City Mission. Face the challenging missions in Career or Race mode. In Career mode, successfully complete 16 challenges - drive around the city or arena transporting cargo, race and show off your skills at the wheel dodging explosions. You can then use your earned coins to unlock new cars in the garage and tune and upgrade them to your liking.
In race mode, of course, you'll face hot races and race for the bets on five tracks either in circles or on an acceleration track.
Are you ready for new adventures behind the wheel? Then start racing on new tracks now and play Mega City Mission free online on Kibagames!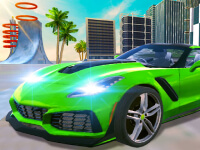 Mega City Missions
Originalname:
Game Hits:
619
Online since:
26.
08. 2021
Developer: