Match Adventure
Approved for Ages 16+
Match Adventure - rebuild the squirrels' village!
Match Adventure is a cool Match 3 game in which you can experience lots of fun in the forest together with a cute squirrel and rebuild the destroyed village of animals.
Squirrel lady Gemmy is looking for her brother Jonny, who got lost in the big forest. And also the squirrel nest and the whole animal village was destroyed! Rebuild it and collect lots of nuts, coins and diamonds. Play through numerous levels, collect clues and resources, and talk to the forest inhabitants to find out what happened last night.
How to play Match Adventure
In Match Adventure, connect at least three or more of the same tiles in each level to remove them from the board and win points and coins.
With larger clusters, you can win power ups like the bomb, rocket or dynamite, which help you blast away particularly large areas on the playing field.
Other power ups like the shovel will help you remove or swap individual tiles from the board. So many options!
Then complete level objectives in Match Adventure like unlocking the cute birds or collecting blueberries and take a certain number of different tiles off the field.
Clear obstacles like the wooden beams by combining three tiles next to them.
Tips and tricks - how to save the squirrel village
With the nuts and coins you have won, you can rebuild the squirrel village. To do this, talk to the animals of the forest and get valuable hints that will be beneficial to you on your journey through the levels and unlock more worlds. Match Adventure offers you a storyline and numerous exciting features that you won't find in many other 3 Win games.
Gain reputation by rebuilding the village and buildings, and speed up the rebuilding process with the diamonds you win.
With the gems you can also buy more decorations, explore buildings and build a nice home for Gemmy and Jonny.
If you ever fail to complete a level with the limited number of moves, you'll lose a life or you can use diamonds to save it as well.
But don't worry, sometimes you even win game time, boosters and diamonds - just try the Wheel of Fortune, collect the valuable Achievement cards or win secret Achievements like the Rebel, which you can obtain by ignoring the game's hints.
More free jewel games with a great storyline
If you liked Match Adventure, why not also play Garden Tales and Match Arena.
And get into the adventure! Help the cute squirrels and play Match Adventure free online on Kibagames!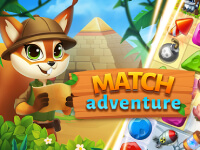 Match Adventure
Originalname:
Game Hits:
909
Online since:
25.
11. 2021
Developer: