Mahjong 3D Classic
Approved for all ages
Mahjong 3D Classic - experience fun in the third dimension!
Mahjong 3D Classic is an exciting mahjong game in which you can combine all the tiles into pairs in the third dimension.
Combine the tiles with the classic Chinese symbols from different perspectives and soon set a new great score. You can use the mouse or the ingame arrow keys to rotate the tower and get a good overview from different angles.
Your goal is to match all the tiles into pairs with the same motifs within the time limit. With the new intuitive interface, this is especially fun in Mahjong 3D Classic! As always, the cubes on the right and left must not be blocked by other majong tiles. Otherwise, clear them quickly!
In each level of 3D Mahjong there is also the possibility to shuffle and take help hints. If you can solve it especially fast, you will also gain extra time.
Don't miss this new brain teaser game and play Mahjong 3D Classic free online at KibaGames!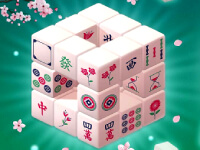 Mahjong 3D Classic
Originalname:
Game Hits:
0
Online since:
28.
05. 2022
Developer: