Magical Girl MAKEUP!
Approved for all ages
Magical Girl MAKEUP! - style a magical manga girl!
Magical Girl MAKEUP! is a comprehensive dress-up game in which you'll be able to design an avatar in the style of popular manga and anime characters.
Style not only the Magical Girl's outfit in the tradition of popular characters like Sailor Moon, Cardcaptor Sakura and Pretty Cure, but also create her outer appearance. Choose the facial features, a skin color and an opulent or simple hairstyle. Assemble the outfit from many detailed elements such as corsages and blouses, different sleeve shapes and skirts. Diadems, other hair accessories and also many decorative elements such as bows and gemstones can be processed individually in the image.
Since we are in the world of magic here, you can of course use fairy or angel wings. And also the obligatory wands and magic weapons find their place. You can round off the picture with a colorful background and then feel free to download it.
Fans of the popular Japanese pop culture will definitely get their money's worth in this new lifestyle game.
Fun Fact: MAKEUP! is Sailor Moon's battle cry in the original Japanese.
Get creative again and play Magical Girl MAKEUP! online for free at KibaGames!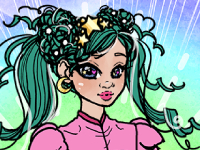 Magical Girl MAKEUP!
Originalname:
Game Hits:
0
Online since:
29.
04. 2022
Developer: