Liquid 2
Approved for all ages
Liquid 2 - get the water drops to the finish!
Liquid 2 is a cool skill game where you guide a series of water drops through a maze to the finish.
Rotate the maze with the arrow keys or A and D to bring at least 20 drops safely to the orange area. Play through three different worlds and set a new high score. Depending on how many water drops you bring to the finish, you will be awarded with up to three stars. Of course, there are also numerous obstacles in your way. Sometimes, for example, you can make large balls roll to the side. Other times you'll first have to find a key to open locked gates. With many challenges, Liquid 2 entertains in 27 levels in three worlds. How many points can you collect?
Press the Next button when you have reached your level goal. You can restart with the Repeat button.
Relax now and play Liquid 2 free online on KibaGames!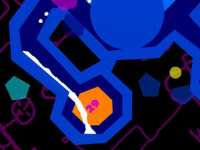 Liquid 2
Originalname:
Game Hits:
5
Online since:
04.
07. 2022
Developer: