Life Story
Approved for all ages
Life Story - choose beautiful dresses for every stage of life!
Life Story is a pretty dress-up game in which you'll be able to dress Belle from "Beauty and the Beast" for each stage of her life.
Put together four outfits for the beautiful merchant's daughter and take her through different stages of the well-known fairy tale. Control via the storybook in the main menu and start with Belle's childhood. Then follow the episodes of life in the village as a young woman, ball night with the beast that becomes the prince and a scene in which Belle is a grown woman and mother of three children. 
Always put together the different elements of the long dresses one by one and choose the appropriate colors and decorations. The ball gowns of the 18th century fairy tale are, of course, especially beautiful to look at. In the final scene, you can also design or select the royal husband and children yourself.
Create four detailed images of the popular fairy tale and movie now and play Belle's Life Story free online on KibaGames!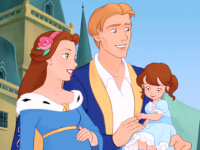 Life Story
Originalname:
Game Hits:
0
Online since:
08.
04. 2022
Developer: