Lethal Race
Approved for Ages 6+
Lethal Race - only the best driver will survive!
Lethal Race is an exciting racing game in which you'll be able to have a thrilling competition with other cars full of superpowers.
Only the best car can survive! Control your race car with WASD or the arrow keys and jump with Z. Use X to fire the rocket to destroy cars and obstacles in front of you. Be careful to flatten all your opponents, but don't get shot down yourself.
In this action-packed race, not only the cars in front and behind you will be a danger, but also a lot of traps and obstacles can cause you damage. Jump over every cliff and numerous chasms and don't get crushed or shot to pieces. Collect coins for upgrades and perform the best somersault flips to charge up your nitro. Being extra fast can give you a crucial survival advantage in Lethal Race.
Race now on the most dangerous tracks through cities, tunnels and over land and play Lethal Race free online on KibaGames!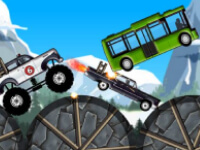 Lethal Race
Originalname:
Game Hits:
410
Online since:
31.
03. 2022
Developer: