Lazy Jumper
Approved for all ages
Lazy Jumper - throw the vacationer into the swimming pool!
Lazy Jumper is a fun arcade game in which you can make a lazy vacationer jump into the pool with as little effort as possible.
Click or tap to make the lazy jumper jump and quickly get him into the cool water. On the way to the pool you can destroy all sorts of objects in front of you and collect extra stars for it. Crash colorful tires, boards and much more and let the Lazy Jumper land in one of the swimming hoops to double or quintuple your score. With the stars you collect, you can then outfit your chilled-out pool guest with new skins like swim trunks, t-shirts, caps or sunglasses.
This makes vacation fun! Let the relaxed vacationer whirl through the air and play Lazy Jumper free online on KibaGames!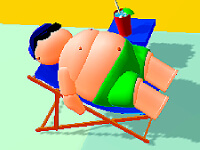 Lazy Jumper
Originalname:
Game Hits:
0
Online since:
26.
04. 2022
Developer: