Laser Ray
Approved for all ages
Laser Ray - hit all the diamonds with the bright light beams!
Laser Ray is an exciting brain game in which you can direct laser beams at diamonds in 60 levels.
Use reflective mirrors to direct the laser beams in the right directions so that they hit the red gems. Click or tap to rotate the lasers or mirrors and guide the path of the light to the target points. Be strategic and fast, because in each of the 60 levels you only have 2 minutes to guide the lasers in the right direction. Collect three stars and then move on to the next level!
And now get to work with the laser cannon! Find the right positions for beams and mirrors and play Laser Ray free online on Kibagames!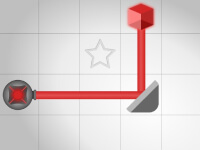 Laser Ray
Originalname:
Game Hits:
177
Online since:
11.
12. 2021
Developer: