Labo 3D Maze
Approved for Ages 6+
Labo 3D Maze - find the exit of the maze!
Labo 3D Maze is a fun game where you can run through a maze full of dangers and collect golden keys.
Control five different game characters through an exciting 3D maze and find the exit in 24 levels without falling into the many traps.
Control your characters with WASD and use the mouse to zoom in and out of the maze and change the camera angle. Use the maps in the upper right to navigate. You can also use E to operate levers or other tools to build a safe path over various obstacles and traps. Flames, sharp spikes, deep holes and many other dangers lurk in Labo 3D Maze - so react quickly and don't waste too many lives! Each level holds some golden keys and shows where the exit is by golden light beams.
Find your way through 24 exciting levels and play Labo 3D Maze free online on KibaGames!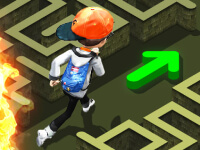 Labo 3D Maze
Originalname:
Game Hits:
0
Online since:
08.
04. 2022
Developer: