Knot Logic
Approved for all ages
Knot Logic - tie up all the loose ends!
Knot Logic is an exciting brain game in which you can puzzle together colorful lines.
Puzzle your way through more and more colorful threads and click or tap on each piece to move it to a new location. Then click on the puzzle piece you want to swap with. Your goal is to knot the loose ends of all the colorful threads and form continuous lines. This creates beautiful colorful line patterns. You cannot move the puzzle pieces that are highlighted in dark blue. They serve you as starting and orientation points. So train your logical thinking and link and sort in knot logic more and more threads. The game principle is simple, but also challenging!
Navigate after successfully passing a level with the blue arrows to the right and plunge into the next logic puzzle.
Now bring order back into the chaos and play Knot Logic free online on KibaGames!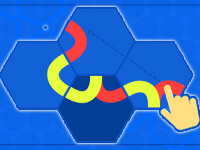 Knot Logic
Originalname:
Game Hits:
0
Online since:
18.
06. 2022
Developer: