Kitten Hide And Seek
Approved for all ages
Kitten Hide And Seek - save a mini girl!
Kitten Hide And Seek is a cute kids game in which you'll be able to hide a little girl from a cat and make a new home for her.
The little girl has shrunk to the size of a thumb and now she has to hide from the black cat behind all sorts of everyday objects in an apartment. Run with start and click to make the girl crouch behind vases, books or food packages. Collect golden coins along the way, which you can use to make a little hideout homely for her between levels. It is also possible to purchase new skins.
Be careful, on the way to the goal spilled liquids sometimes slow down your character. Fortunately, you can use boosters to become faster or invisible.
Can you escape from the furry enemy? React at the right moment now and play Kitten Hide And Seek free online on KibaGames!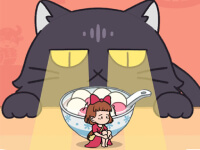 Kitten Hide And Seek
Originalname:
Game Hits:
0
Online since:
04.
09. 2022
Developer: