Kitchen Bazar
Approved for all ages
Kitchen Bazar - manage a new restaurant in Manhattan!
Kitchen Bazar is a cool management game in which you'll be able to run your own restaurant in New York.
Become the most famous restaurant boss in Manhattan! Anyway, that's your goal and you should start small first. You already have a restaurant, but now you're just getting started! Customers can't wait to try all kinds of goodies. Start with the drinks. For this, you will find various ingredients at the bottom of your counter. You have to select them to mix the drink you want. Your first customer wants a refreshing lemonade. So select both lemons and pull them up to the customer to serve the desired drink. Great, that was your first step on your way to running a top restaurant! 
Now you've also earned your first money, so you can buy the furniture for the restaurant's premises. You can also gradually add new furniture to customize your restaurant to your liking. Later, as you continue to level up and improve your skills, you'll be able to purchase sets for specific themes, such as diner or ice cream furniture.
Tips and tricks for tipping a lot
In addition to drinks, you'll be able to serve your customers main dishes like bratwurst or burgers, as well as desserts like donuts or raspberry pie.
You'll have to serve the food within a certain time and try to fulfill the customer's requests as quickly as possible, perhaps to receive a tip as a bonus.
Apart from furnishing items, you can also buy power ups to get more tips or more time to process the order.
If you ever forget how to make the orders, you can click the items you want in the customer speech bubbles and see how they are mixed.
More exciting restaurant games
If you liked Kitchen Bazar, why not play Virtuell Families: Cook Off?
Let's get started! Serve your first customers now and play Kitchen Bazar free online on KibaGames!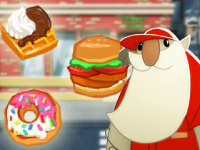 Kitchen Bazar
Originalname:
Game Hits:
0
Online since:
23.
10. 2022
Developer: