Kawaii Among Us
Approved for Ages 6+
Kawaii Among Us - style cute crewmates and impostors!
Kawaii Among Us is a cute kids' game in which you'll be able to style the famous Amoung Us astronauts in the style of Japanese cuteness aesthetics.
In Among Us, your goal is to find the Impostor, but what if you dress up some extra cute crewmates for the task in between?  The Japanese kawaii aesthetic is just right for this - childish, colorful and especially cute round shapes dominate here. Design a total of five Among Us characters and equip them with all sorts of kawaii attributes.
You can give them lots of cute facial features or animal faces, put funny hats or other items on them and either choose a spacesuit in pastel colors or a whole new costume right away. How about a Minions suit or are you more into a cute puppy or elephant? You can round off the outfit with a new hairstyle in bright colors, a backpack or a balloon. Then choose a suitable background like outer space or another area with pink hearts or purple lines and the hunt for the traitor can begin!
Equip your crew with especially cute crewmates and impostors now and play Kawaii Among Us free online on KibaGames!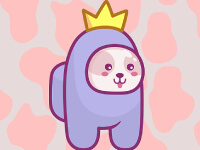 Kawaii Among Us
Originalname:
Game Hits:
0
Online since:
13.
03. 2022
Developer: