Jewel Monsters
Approved for all ages
Jewel Monsters - fight monsters with jewel combos!
Jewel Monsters is an exciting match 3 game where you can defeat the monsters with the best gem combinations.
Each of the Jewel Monsters can be defeated if you can take a certain number of jewels from the field. You can see the number and color you need as a weapon above each monster. Always combine at least three gems of the same color to remove them from the field and also clear your way to the combinations you are looking for. However, every time you can't counter the monster with a gem, you also lose a bit of your life force. Don't let it get to zero and earn new lives by winning levels or unlocking heart bonuses. They are created when you connect four or more diamonds of the same color.
Fight your way through a forest of hairy monsters with the power of stones and play Jewel Monsters free online on Kibagames!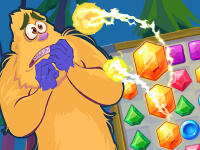 Jewel Monsters
Originalname:
Game Hits:
13
Online since:
18.
02. 2022
Developer: