Jet Boat Racing
Approved for all ages
Jet Boat Racing - race a speedboat on a keyboard with two people!
Jet Boat Racing is a fast racing game where you can race a speedboat with a friend.
Play the speedboat race either in multiplayer against a fellow player at the same keyboard or in singleplayer against the computer. In multiplayer, steer with WASD and the arrow keys and ignite the nitro with F and K. And off you go: various race courses with large gates for orientation await you. Jump over different ramps on each water course, drive through an interesting coastal landscape and let the turnstiles supply you with new thrust. If you don't want to race, you can also select Free Ride Mode. Keep unlocking new, even better speedboats and leave your opponents behind on the water!
Whether you're a water rat or not, these races on a sunny coastline will fascinate any speed fan! Let the spray splash, step on the gas again and play Jet Boat Racing free online on KibaGames!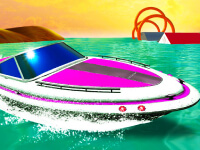 Jet Boat Racing
Originalname:
Game Hits:
757
Online since:
12.
05. 2022
Developer: