Jelly Quest Mania
Approved for all ages
Jelly Quest Mania - Connect the jelly candies!
Jelly Quest Mania is a cute match-3 game where you have to match colorful jelly candies in 50 different levels!
Connect at least three of the same jelly candies and achieve different goals per level. Mostly, the goal is to remove a certain number of colors with a limited number of moves. The game field also poses a challenge due to its structure. For example, there are gaps in the playing field so that you can't assign wine gums there. Or the jellies are hidden behind iron bars and you have to make a matching move next to them to remove the obstacle. Also, don't forget to stay within the time limit. Many challenges are waiting for you!
More puzzle games with cute stones
If you liked Jelly Quest Mania, you should try Garden Tales 2.
Connect colorful drops and gummy bears in many colors now and play Jelly Quest Mania free online on KibaGames!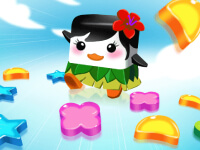 Jelly Quest Mania
Originalname:
Game Hits:
0
Online since:
05.
02. 2023
Developer: