I Love Hue
Approved for all ages
I Love Hue - sort colors from light to dark!
I Love Hue is a relaxing puzzle game where you arrange colors in the color spectrum in the correct order from light to dark.
Arrange the mosaic areas into perfect color gradients. The blocks with the white dot in the middle are fixed and serve as your orientation. Sort the remaining tiles by dragging and dropping with the mouse or tapping with your finger, so that there are color gradients from light to dark or vice versa in each column. In the middle of a column the colors can sometimes change.
Train your perception and find relaxation while arranging the red, blue, green and yellow shades. Numerous levels offer long puzzle fun with the grayed shades.
Even without painting, color games are fun! Find the right sequences now in this online game for the app and play I Love Hue free online on Kibagames!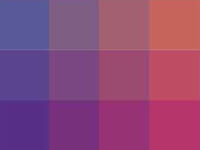 I Love Hue
Originalname:
Game Hits:
69
Online since:
04.
12. 2021
Developer: