Human Wheel
Approved for all ages
Human Wheel - roll to the finish line together!
Human Wheel is all about teamwork: In this fun arcade game, collect as many fellow humans as you can along the way and connect them to form a giant rolling wheel. At least one person must reach the finish line to pass a level.
Try to avoid obstacles and chasms, because here you will automatically lose parts of your "People Wheel" when your team members bridge gaps or build ladders for your wheel. 
Also collect the coins on the track. You can use them to increase the number of participants in your starting group or buy an upgrade that increases the value of the coins.
Think carefully about where you roll along to reach the finish. You can't make an omelet without breaking a few eggs! Often it's beneficial to pick up people for your Human Wheel who are standing on an obstacle. For example, if you lose two people to roll up the obstacle, but pick up four new people at the top, you've done everything right.
How many levels can you complete with your team? Show off your acrobatic skills now and play Human Wheel free online on Kibagames!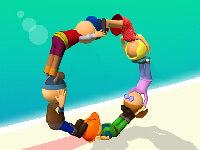 Human Wheel
Originalname:
Game Hits:
0
Online since:
25.
07. 2022
Developer: