Honey Pickers
Approved for all ages
Honey Pickers - win sweet nectar!
Honey Pickers is a fun clicker game where you can collect flowers, make honey and invest in bees.
Make honey with the help of busy bees! Help the bees by collecting flowers, selling them and then buying more bee colonies to help you collect nectar.
Controls: Play with your mouse or finger. Go to a flower meadow on the board and stop there so your character can start harvesting the flowers. Mow down the flowers by clicking with a sickle and collect the sweet liquid in a bottle.
For the money you earned, you can upgrade your sickle. Also increase the size of the bottle you carry on your back so you can carry a larger amount. You also have the possibility to upgrade your bees for the honey harvest. To do this, you will have to exchange some bees yourself for a stronger or faster bee. You can also upgrade the standard bees.
If you have collected enough gold or honey, you can take a ferryman to the next level. Here you will find a new environment and new types of plants. Your bees will stay with you and will continue to help you pick up petals that are further away. If you increase their efficiency, your swarm will rush to the next flowers and independently collect honey to bring it to you. So it pays to be good with the yellow-black insects.
Other interesting idle games
If you like Honey Pickers, why don't you play Idle Pet Business?
And now go for the sweet delicacies and fragrant flowers! Play Honey Harvest free online on KibaGames!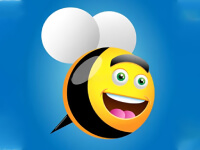 Honey Pickers
Originalname:
Game Hits:
0
Online since:
13.
12. 2022
Developer: