Highway Road Racing
Approved for Ages 6+
Highway Road Racing - race at full throttle on the highway!
Highway Road Racing is a fast-paced racing game in which you'll be able to set a new distance record on the highway.
Drive as long as you can and avoid the other road users. If you graze them only slightly, the round is over for you. Of course, the longer you last, the bigger your reward will be.
Controls: Control your fast cars with the arrow keys and WASD.
At the beginning, you'll only have one car available for your race, but over time you'll earn more and more in-game money and can buy more cars that perform better. You'll also be able to improve the individual components.
Use three different modes in Highway Road Racing: one-way, two-way and the time attack.
In the one-way mode, "One Way", you'll drive on a four-lane highway and you'll have to switch between lanes. If you set it to "Two-Way," you'll have oncoming traffic and not only will you have to go with the flow, but you'll also have to swerve into the oncoming lane at times. In "Time Attack" mode, you're racing against the clock and have to try to stay on the highway as long as possible. You'll have three maps available for your adventure behind the wheel, with different weather conditions and times of day.
More free car games for you
If you like Highway Road Racing, why not play Racing Horizon?
Now step on the gas and go! Play Highway Road Racing free online on KibaGames!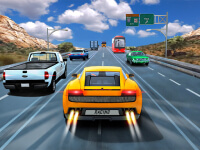 Highway Road Racing
Originalname:
Game Hits:
0
Online since:
24.
11. 2022
Developer: