Hide 'N Seek 3D
Approved for all ages
Hide 'N Seek 3D - play the popular game online with a bunch of kids!
Hide 'N Seek 3D is a cool fun game where you can play the classic game for kids online with lots of features!
Playing hide and seek is also possible in a fun online game. Search and find the kids who can hide all over the building and use WASD or the arrow keys to move around. Use the mouse to look around and search everything in the 3D environment for your playmates. By using Esc, it is possible to access the settings and take a break from the fun children's game.
Now search for your playmates and get valuable tools like the compass, x-ray glasses or a cute dog if you can win a level. More and more kids will join your game!
Look in closets and behind sofas now and get hints from your animal companion too! Play Hide 'N Seek 3D free online now on KibaGames!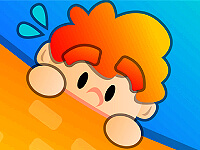 Hide 'N Seek 3D
Originalname:
Game Hits:
0
Online since:
06.
05. 2022
Developer: