Hexoboy
Approved for all ages
Hexoboy - run and jump through the Hexagon course!
Hexoboy is a cool jump and run game in which you'll have lots of adventures running and jumping through an exciting course.
Start in the blue world and make Hexoboy run with the arrow keys and jump with the space bar. Use the up or down arrow keys to climb up and down the ladders. Also use moving platforms and climb up at the right moment to be transported one floor higher or lower. Collect the many valuable diamonds and even a crown in each level. Moving crates can also help you on your way through the levels.
Can you successfully guide your brave hero through this classic puzzle platform game to the app? Explore lots of colorful worlds in this new obstacle course now and play Hexoboy free online on KibaGames!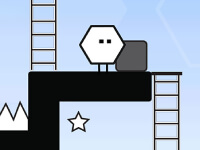 Hexoboy
Originalname:
Game Hits:
0
Online since:
02.
05. 2022
Developer: