Help The Hero
Approved for Ages 6+
Help The Hero - conquer the dungeons with sword and brains!
Help The Hero is a cool pull the pin game in which you can guide a hero through a series of dangerous dungeons.
Pull out the golden sticks in the right order so that your little hero can get to his treasure or princess. The way there is often full of dangers. Orcs, lava or poisonous fumes threaten your hero. Help him eliminate the dangers by, for example, extinguishing the lava with water, fighting the orcs with a sword or poisonous fumes. Click or tap the pins or other yellow markers in the right order, secure the dungeon and bring the treasure chests full of gems into your possession. You may already know these puzzles from Hero Wars or the Hero Rescue app. On KibaGames you can play this story directly in your browser without downloading.
More puzzle games based on the Pull The Pin principle
If you like Help The Hero, then play Love Pins or Pull Pins.
With a good strategy your knight can win! Successfully fight your way through each dungeon and play Help The Hero free online on KibaGames!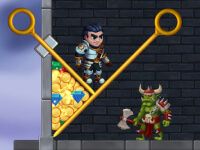 Help The Hero
Originalname:
Game Hits:
0
Online since:
20.
09. 2022
Developer: