Happy Green Earth
Approved for all ages
Happy Green Earth - make it rain for Earth Hour!
Happy Green Earth is a cheerful brain game for this year's Earth Hour, in which you can make it rain from a cloud onto the Earth.
Use the familiar Happy Glass gameplay and draw a line from the rain cloud to the thirsty Earth to direct the coveted water there. With the right stroke, Draw The Line, you can stop the thirsty earth from drying out and save it. Play through numerous levels about wildlife, the ocean, waste and air pollution and make sure the environment is okay again. Draw the right lines around many other obstacles as well, such as planets, animals, or even a spaceship, and win up to three stars.
Did you know that this year's Earth Day theme is "Clothes make the man"? Just get a little crafty and find out how you can dress sustainably by buying or swapping fashion, and how you can end up disposing of your clothes in a sustainable way.
Every year on April 22, Earth Day promotions are held to protect the environment and climate. Be a part of it and play Happy Green Earth online for free on KibaGames!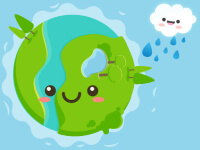 Happy Green Earth
Originalname:
Game Hits:
0
Online since:
26.
03. 2022
Developer: