Grand Nitro Racing
Approved for all ages
Grand Nitro Racing - race for lap times and championship!
Grand Nitro Racing is a classic racing game in which you'll be able to race on the track for the best lap times and the championship.
Follow in the footsteps of the best racers of all time and turn lap after lap on different tracks all over the world. Control your fast racer with WASD and ignite the nitro with F. Use the spacebar to operate the handbrake. Then face challenges of your choice. Race against the clock, train your skills and compete in Championships to win big prize money and help your racing team develop new cars.
Use this money to adapt your race car to the conditions of the race track and drive your laps alone or against a field of drivers. Whether on the Nürburgring or in Australia, every race track has new challenges in store for you!
Now get in the cockpit! Drive to a new best time and play Grand Nitro Racing free online on Kibagames!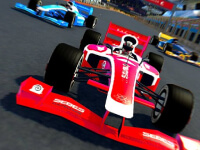 Grand Nitro Racing
Originalname:
Game Hits:
305
Online since:
06.
01. 2022
Developer: