Grand Extreme Racing
Approved for Ages 6+
| | | |
| --- | --- | --- |
| Fahren: WASD // Nitro: L.-Shift // Resetten: "R" // Kamera: "C" | | |
Grand Extreme Racing - Race for the title!
Let the engine roar and prove your skills as a driver in Grand Extreme Racing! In this fast-paced 3D racing game, you'll need all your skills, because your competitors on the track are real pros.
Race for the world championship against nine other Formula 1-like racing cars on circuits in Australia, Mexico or Brazil, and try to score the most points with a good ranking to finally bring home the title. Of course, there is also high prize money, which you can use to upgrade your car in the garage or buy a better car.  
In the race, every curve will decide whether you win or lose: use the booster and drive as efficiently as possible to avoid giving away seconds. Above all, avoid hitting the barriers, because then you'll lose valuable time and your chance to take first place.
Therefore, if you want to practice your skills first, you can do so on any track in "Practice" mode. Compete as a single player, against the computer or against a friend on the same keyboard. You won't win any prize money here, but you'll gain a lot of experience that can help you in the fight for the title.
But Grand Extreme Racing offers even more: In the "Challenge" mode, drive a single lap alone against the clock and earn a reward, or compete against another player in split-screen on the same keyboard. This way you're guaranteed to become a real racing pro soon and can leave your opponents in the dust on the track behind you!
Will you manage to win the world championship title? Play Grand Extreme Racing online for free on KibaGames now!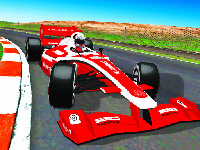 Grand Extreme Racing
Originalname:
Game Hits:
0
Online since:
21.
07. 2022
Developer: