Garden Tales 3
Approved for all ages
Garden Tales 3 - the garden saga continues!
Garden Tales 3 a new match 3 game from the popular series, in which you'll be able to harvest and clean up in a paradisiacal garden.
The adventure among flowers, vegetables and fruits goes into a third round! More than 3000 new levels await you! Let the cute garden gnomes accompany you again and play with the mouse or by tapping and swiping. Always combine at least three of the same tiles to harvest them. If you can form longer chains or combine across corners, that's even better. This way you can unlock row or column blasters or spiral bombs, with which you can remove all tiles of a certain type from the field. Also, complete the level objectives by cleverly combining these boosters to make them even more effective.
Other power ups, such as the shovel or the swap power up, allow you to move certain tiles out of the way. Then, as you make your way through the garden, face any number of special missions like clearing mud or removing vines. There's always something to do in a garden like this! Also spin the wheel of fortune and don't miss out on the gifts and daily rewards!
More fun connection games for garden lovers
If you liked Garden Tales 3, why not play the first and second parts of the garden saga: Garden Tales and Garden Tales 2.
Sowing, weeding and harvesting is fun! Now spend some quality time in your virtual garden and play Garden Tales 3 free online on KibaGames!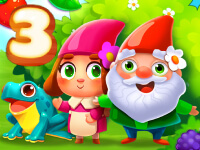 Garden Tales 3
Originalname:
Game Hits:
0
Online since:
18.
09. 2022
Developer: