Funny Food Duel
Approved for all ages
Funny Food Duel - let dogs and cats compete against each other!
Funny Food Duel is a fun reaction game where you can make dogs and cats fight for food portions.
Let your dog or cat compete against a hungry food rival and be the first to grab the tasty morsels hidden under the warming hood. React quickly and be the first to eat all seven portions. You have 10 minutes to win, but the faster your pet can fill up the victory point bar, the better.
Play against the computer or a friend at a keyboard. If you're playing alone, you can use the mouse or A to grab the food. If you are dueling for food, use A and the left arrow key.
Speed is rewarded as well as accuracy, because not all offered portions of food are edible. Packed, frozen or spoiled food must not be eaten by your dog or cat, because then the pet loses a point and is out of the game for a short time, because he feels sick.
But you don't want it to get that far in the first place! Unlock achievements and new dogs and cats by winning food duels and quickly jump into the next round of Funny Food Duel.
Hungry pets watch out! Fight for the tastiest morsels of meat now and play Funny Food Duel free online on Kibagames!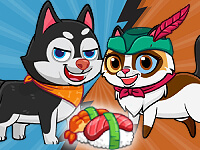 Funny Food Duel
Originalname:
Game Hits:
89
Online since:
12.
12. 2021
Developer: