Funny Daycare
Approved for all ages
Funny Daycare - take care of cute animal babies!
Funny Daycare is a cute children's game in which you'll be able to take care of the needs of four cute animal babies.
In Day Care for the Very Young, it's your job to take care of a little monkey, a piglet, a young elephant and a panda baby. Meet all their needs and change the babies' diapers regularly. Wash the animals, clean their tails and ears and also make sure that small injuries from playing are bandaged. Of course, the animal children also get hungry at some point: prepare porridge and feed your charges. After playing, the nursery needs to be cleaned up again and before the children are picked up by their parents, it's your job to get them dressed.
Try your hand at child care now and play Funny Daycare free online on Kibagames!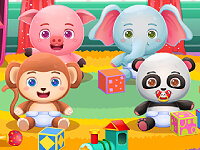 Funny Daycare
Originalname:
Game Hits:
68
Online since:
16.
01. 2022
Developer: