Funny Cooking Camp
Approved for all ages
Fun Cooking camp - grill and bake in the garden!
Funny Cooking Camp is a cute kids game in which you'll be able to build a clay oven outside and prepare a delicious barbecue menu.
First, build the clay oven in the shape of a teddy bear by playing some small minigames. Build the bricks on top of each other, clean everything up and then get the oven glowing. In a short card game, in which you should find the right pairs of cards, you can gather all sorts of grilling and baking utensils. With grill tongs, various grates and, of course, charcoal, you can professionally equip the Funny Cooking Camp. Then prepare delicious dishes like pizza in your new outdoor kitchen and mix fruity cocktails together. Roast delicious food and enjoy it!
Cooking is fun outdoors too! Assemble your own oven for the garden now and play Funny Cooking Camp free online on KibaGames!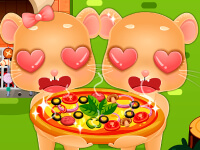 Funny Cooking Camp
Originalname:
Game Hits:
0
Online since:
08.
05. 2022
Developer: