Frankenstein Go
Approved for all ages
Frankenstein Go - save the monster's girlfriend!
Frankenstein Go is a tricky platform puzzle game in which you have to help Frankenstein's monster save his girlfriend from evil creatures.
In order for Frankenstein's monster to succeed in his rescue mission in each of the levels, he must solve numerous puzzle tasks and outsmart nasty enemies. Use the arrow keys to control the friendly monster through the levels, climb up and down ladders, ride elevators and collect lots of items. Keys and all sorts of tools and lost items will help you clear the way, open doors and negotiate with guards. Potions that you can collect will unlock new costumes for Frankenstein's monster, with which he can impress his girlfriend at the end of the levels.
However, be sure to avoid bumping into your opponents, because then the monster will lose a life. Better wait patiently until the path is clear and then sneak past the wizards and witches.
This spooky platform game will thrill you and is lots of fun not only on Halloween! Bring the lovers together now and play Frankenstein Go free online on KibaGames!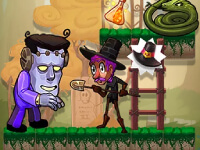 Frankenstein Go
Originalname:
Game Hits:
418
Online since:
11.
09. 2021
Developer: