Flexible Run
Approved for all ages
Flexible Run - dodge all the furniture with yoga poses!
Flexible Run is a cool fungame where you can use yoga poses to dodge furniture and gymnast your way across an entire room to the finish line.
Click or tap to make your yogi change positions. Your goal is to gymnast through an entire room without bumping into the furniture. Reach the wall at the other end of the room and play through numerous levels Flexible Run. React at the right moment and also hit the bonus targets at the end of the level.
On your way to the goal, you can also collect jewels and buy a total of six new skins. Lots of asanas will bring you safely to the finish line after a few good warm-up exercises! In higher levels you can also control two girls who will support each other.
Let yourself be inspired by this sports game of an unusual kind and play Flexible Run online for free on Kibagames!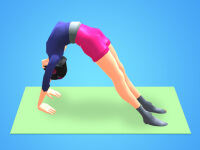 Flexible Run
Originalname:
Game Hits:
216
Online since:
01.
02. 2022
Developer: