Fish Story 2
Approved for all ages
Fish Story 2 - Match 3 fun in the coral reef!
Fish Story 2 is a colorful Match 3 game in which you can match at least three of the same motifs underwater.
In keeping with the theme of the sea and underwater world, there are lots of starfish, shells and seahorses to see. As usual, connect at least three identical tiles with each other to remove them from the game and collect points.
Forming especially large clusters is an advantage in Fish Story 2:
When you combine four tiles, you get a tile with a ribbon that indicates whether the tile on the board resolves a row, a column, or both. If you combine these particularly powerful jewels with each other, regardless of color, you can trigger a chain reaction and score a lot of points in one turn.
If you can match more than four tiles, you unlock a particularly powerful bomb specimen. If this is matched again, it also clears some tiles in the surrounding area.
For a combination of five you get the rainbow ball, which takes on the color of another tile and can clear all tiles of the same color in one go.
In higher levels you also unlock more power ups like the hammer or the exchanger, which you can then use freely on the playing field.
Not only that, but you also get rewards for logging in every day - so it pays to play Fish Story 2 regularly!
More beautiful ocean-themed connection games
If you liked Fish Story 2, why not also play Fishing Duels or Fish Story?
Dive into a relaxing underwater world with Neptune and play Fish Story 2 free online on KibaGames!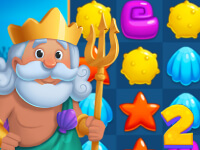 Fish Story 2
Originalname:
Game Hits:
0
Online since:
07.
04. 2023
Developer: