Fill In The Holes
Approved for all ages
Fill In The Holes - fill in gaps in the right pattern!
Fill In The Holes is a challenging number game in which you fill in the rows and columns next to number boxes in the correct pattern.
Your goal is to fill in two columns or rows next to the boxes with different colors, using the number of boxes written on the box. For example, with a 5 you can go two boxes to the left and three to the top, bottom or right. Fill the whole board and try all possible combinations within the time limit.
If you block another box with a move, you have to think of a new approach to that number box. Each box has a different color, so you can easily find your way through 200 levels and collect over 1500 stars. Soon achieve your first achievements and a good ranking on the leaderboard.
Don't miss this tricky new brain training game and play Fill In The Holes free online on KibaGames!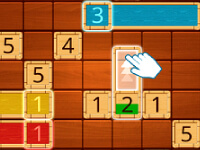 Fill In The Holes
Originalname:
Game Hits:
0
Online since:
30.
04. 2022
Developer: