Farm Land And Harvest
Approved for all ages
Farm Land And Harvest - sow and harvest with big tractors!
Farm Land And Harvest is a fun children's game in which you'll be able to run a farm with lots of big farm machines.
Lots of big machines are needed for productive farming. Puzzle the tractors together in a first step, then refuel them and drive to the different fields. There you can perform all sorts of activities like plowing, sowing, watering and harvesting. For this you need not only the heavy tractors, but also plows, harrows and scythes attached to the agricultural machines. After working in the field, the implements and tractors are quite dirty. Wash them in the car wash and bring them back to the equipment shed. There you can then assemble the next vehicle.
Grain, corn and many other crops are waiting for you! Play Farm Land And Harvest free online games on KibaGames!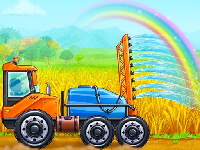 Farm Land And Harvest
Originalname:
Game Hits:
0
Online since:
10.
07. 2022
Developer: